19 AliExpress Alternative Sites with Faster Shipping
Whether you're looking for an AliExpress alternative or not, here, we take a look at the sites like AliExpress and give them a spin to find out why they are different and what sets them apart.
AliExpress is one of the most popular marketplaces when looking for an established online marketplace with global shoppers. But it is not only AliExpress when it comes to the biggest players in online shopping. Equally, there are a number of similar sites like AliExpress on the race. Here are 19 top shopping alternatives to AliExpress that can help you find great discounts and offers to save big money on your purchases.
Some people do not prefer AliExpress because they feel that the site is flooded with cheap items and fake reviews. Moreover, AliExpress product descriptions are not ideal as it is filled with improper details with some genuine branded item images. 
Whatever your reason, trying out a few of these cheap sites like AliExpress before buying your desired products is the most obvious choice while shopping. Based on your requirements, to narrow down your search I would recommend looking at these 19 best stores like AliExpress in 2022. We also shared Alibaba alternatives.
19 Best Stores & Sites Like AliExpress for Cheap Online Shopping in 2022
Gearbest is also similar to AliExpress which has a wide catalog of products. Apart from daily deals and coupons, the website also has a rich collection of products at affordable price tags. Gearbest is a perfect platform for those who want to purchase home appliances and consumer electronics.
You can also find all sorts of items in one place. In this way, you are sure to find each and every product in a single eCommerce website without using any other site. Apart from giving great discounts on your purchase, the website also offers $3 off coupons for new users through which they can buy anything for free. 
Besides that, there are also numerous items in categories like drones, robots, industrial and scientific products on the platform. Gearbest has an intuitive interface and ships products to almost every country including India, Pakistan, and the USA. 
BangGood is also an AliExpress alternative website that lets you purchase products from China at cheaper prices. If you are a fan of China's high-quality items, then you should certainly visit Bangood. Almost all the products listed on Bangood come under various quality control measures that help you buy high-quality products from China.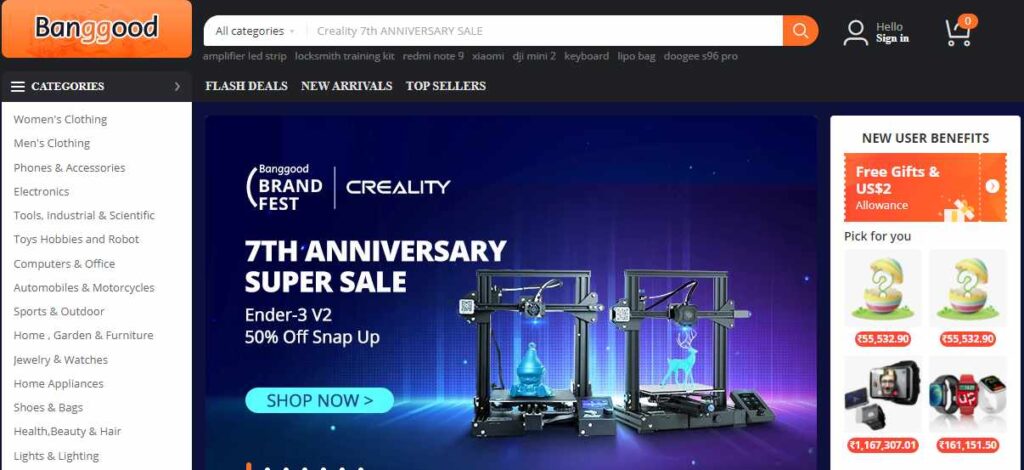 The website is loaded with a huge variety of items that you can purchase. From computer parts to bulbs, you can find it all on BangGood. Also, BangGood offers almost all payment modes to every product listed. Moreover, the platform provides 24/7 customer service. Importantly, the e-commerce site has partnered with almost every major courier company from over 200 countries to ship products quickly.
DealeXtreme is a keen opponent of AliExpress alternative. It is one of the best business-to-consumer e-commerce retailers with over a million customers. Like on AliExpress, users are offered millions of products from China. In addition, DealeXtreme has diverse catalogs of items. The website ships products to most of the countries, so you won't lose your money if there's a problem with your order as it is shipping from China.
DealeXtreme provides plenty of information on every product, including price, discounts, offers on the particular item through the listing. The website has a sheer number of products from a wide range of categories so you're almost guaranteed to find something suitable for your needs at a cheap price. The site accepts payments via Visa, MasterCard, Maestro, and American Express. It is also one of the sites like AliExpress that accept Paypal payment mode.
ChinaBrands is the largest marketplace in the world. You can visit the site to search through millions of products. ChinaBrands also includes an option to start dropshipping for users who want to start their online business quickly and easily. ChinaBrands also offers a way to be a supplier on the platform.
Like AliExpress, ChinaBrands focuses much more on selling products from sellers to buyers directly. You can get the product details to update your store. Just by paying for the product and logistic chargers, you can sell your item to buyers around the globe.
This website similar to AliExpress focuses on connecting users around the world to merchants. It claims to be one of the fastest-growing shopping platforms, as it helps connect people from sellers. Currently, the site is serving in 100+ countries and has support for 40 languages. Each and every category of the Wish is filled with thousands of products.
This is a platform better suited for people who want to purchase desired items from third-party sellers. You can also find numerous merchants from the world who sell high-quality products just like sellers on eBay and Amazon. According to the report, Wish.com is the third-largest e-commerce marketplace in the U.S.
---
---
Just as AliExpress, the Mini in the box is meant for users who look for big savings on purchases. Like AliExpress, this site also offers a variety of product types, but it has a dedicated search button so you can find the item you want to grab details to order it. The site offers a good collection of electronic products and apparel.
The website features an extensive range of toy & game, cell phone cases, headsets & headphones, led & lighting accessories. Available in most countries worldwide, it hosts consumer goods and tons of other amazing products.
An online retail giant, Lightinthebox is one of the top AliExpress alternative sites thanks to its wide selection of lifestyle products at attractive prices and user-friendly interfaces. Its search results page shows the product with price, favorite button and also shows whether the product is new or used. You can also see ratings and reviews.
Lightinthebox compiles almost all of the items of need. You can filter the products with prices, fabric, sleeve length. Buyers will also get the expected delivery time. In addition, like on AliExpress, you get new user coupons and offers on your first purchase.
GeekBuying was started in 2012 and since then the E-commerce platform has been serving the consumers fairly well even though there's tough competition from sites like AliExpress, Alibaba. Of all the popular AliExpress alternatives, GeekBuying is a little different as it focuses more on consumer electronic gadgets.
While the home, furniture, clothes are obviously limited, you'll find attractive price tags for electronic items, appliances, and gadgets. The website lets you shop latest gadgets just like any other shopping site. There are a variety of other products as well. Some of the additional products include the office furniture, security system, TV boxes, Mini PCs, etc.
This e-commerce site is considered as the best alternative of AliExpress because of its worldwide availability as well as popularity. This platform brings every trending latest product to you. It was also among the first consumer-to-consumer and business-to-consumer websites started in 1995. Since then, it's settled in as being one of the top multinational e-commerce sites available right now.
It also provides an online auction functionality to put the item up for bid rather than buying it instantly. eBay is suitable for all kinds of shopping, be it a small purchase or a large purchase. If you are a seller, it also offers a way for you to list your item on the platform. Even though the listings for sellers are limited, you have to pay some fees for further listings. AliExpress has a concept similar to eBay.
Overstock is an online retail platform that allows you to buy each and every product. It is easy to use as it requires you to only register to start purchasing products on the website. It has a collection of many items that you can choose from and increase the quality as per your needs, just like AliExpress.
Some other features of Overstock to check out include free shipping on every purchase, app-exclusive coupons/daily deals, personalized recommendations, and more. You can register on Overstock with its simple and intuitive interface. It offers easy navigation to find products of your choice easily and makes online shopping easy. There are many categories of products you can choose from including furniture, rugs, decors, kitchen, jewelry, lighting, and a lot more.
---
---
While AliExpress offers a wide range of item catalogs, it is a well-known fact that Walmart is a very large company that is very popular for selling basics at rock-bottom prices. Walmart is a very intuitive store that sells electronics, home improvement products, clothes, footwear, toys, garden supplies, health and beauty items, pet supplies, sports and fitness products, and much more. Trying Walmart is a good choice if you're looking for cheap priced items.
If you're an AliExpress fan, you might be disappointed because Walmart is serving in Canada, the United Kingdom, Central America, South America, and China only.
If you find ordering on AliExpress is too complicated, you can stop right here. Target definitely has some nifty products that you can't find anywhere. While AliExpress sometimes almost feels like it is limited to China only, Target is a widely popular and award-winning retailer that serves the United States.
Target is generally a much more competitor to Walmart and Amazon. American citizens generally prefer Target as the great website to purchase beauty and health products, bedding, clothing, and accessories, electronics, and that's why Target has become the eighth-largest retailer in the United States.
While the DHgate website is focused on selling goods made in China, it's also got plenty of category products as well. It's especially handy if you want to buy quality products at a quality product price. DHgate is a great alternative for people who want a variety of made-in-China products shipped right to their door.
DHgate offers its services in multiple languages apart from English. DHgate also throws quite a few interesting features like a buyer protection plan and a secure refund policy alongside proving express international delivery. The platform boasts over 30 million products which easily makes our list one of the top alternatives to china sites like Aliexpress.
Bonanza is a competitively-priced all-in-one E-commerce sites like AliExpress that is designed to help sellers to make sales and build a brand by developing relationships with their customers. It definitely helps to find products that are not available anywhere.
Although Bonanza's user interface isn't anything too pretty or fancy, it's much more simple and reliable enough for users. It is an extraordinary and award-winning online marketplace to make online selling easy. Even if you are a seller, there are no listing fees, no monthly store fees, no other fees. Bonanza provides a really smooth selling experience for entrepreneurs through their platform.
TomTop has all your product needs covered. For millions of people, TomTop has become the top wholesale and retail shop platform. And it became the leader of reliable websites that offer high-quality products under diverse categories, simplifying people's complications in finding quality items at the best price.
But not everyone is completely elated with TomTop. While some say TomTop takes more time to dispatch the item, some say they do lack tracking information of the products. However, for people who are looking for affordable and high-quality products that meet their needs, TomTop should be their priority. 
---
---
LigthTake is a reliable AliExpress alternative enabling customers to buy cool stuff. This is a site that helps buyers by offering a huge selection of cool gadgets at a cheap price. Its clean user interface combines a professional shopping experience, daily new products to satisfy customers' needs.
Another cool thing is that LigthTake offers products at more competitive prices and with more varieties. It is extremely easy to use and is one of the sites that provides worldwide delivery. The platform gives users the best set of items by reducing the gap between the company that makes the product and customers. LigthTake has all the products that AliExpress offers, as well as a customer-friendly return and exchange policy.
Milanoo is an online retail store founded in 2008 in China. This shopping site features men/women's clothing, wedding items, special events items, cosplay costumes, and more. supports multiple language interfaces like Español, Français, Português, etc apart from English.
Milano has a rapid rise towards the top clothing websites similar to AliExpress pile. The leading clothes and shoe site has served millions of users throughout the world with its amazing quality products at a competitive price. The platform is loaded with a collection of genuine clothing items that keeps you engaged in all the seasons.
Best Buy is a great resource especially for buying electronic items. You'll find all the gadgets, electronics, music, and sound-related products you need on Best Buy. With more than a million users in the USA, Best Buy is one of the most popular consumer electronics retailers. Earlier, it was called Sound of Music, and later, it was renamed Best Buy.
It has a straightforward initiative interface with a clean navigation which makes it easier to access than AliExpress. From the many alternative websites to AliExpress, Best Buy is the one providing electronic items like smartphones, laptops, tablets, smartwatches, printers, cameras, etc. The main aim of the platform is to provide all consumer electronics under one site at an affordable price.
Focal Price is a Hong Kong-based alternative to AliExpress for discovering quality smartphones, TV Boxes, smart bracelets, VR headsets, drones, and more.
The best part about Focal Price is it has sellers from all over the world and it is easy to purchase from the platform as well. Functionality-wise, it matches the AliExpress website. Focal Price store has an efficient collection of items for buyers.
---
---
Frequently Asked Questions (FAQs)
---
What are some sites like AliExpress?
On the internet, you can find hundreds of sites that claim to be the top AliExpress alternatives. While some shopping sites are designed for clothing/electronics/other items, others are geared towards helping people find all products in one platform. To make your piece of work easy and straightforward, we have compiled some of the great stores like AliExpress. 
Which AliExpress alternative should you choose?
Gearbest and Bangood are the best all-rounders out there with the highest number of products from a diverse range of varieties.
---
These are the best AliExpress alternative sites we've found. Of course, none of these e-commerce platforms can match AliExpress in terms of a wide range of products, faster shipping, and quality products. Have you tried ordering any products with any of these similar sites like AliExpress? Did they make your shopping experience better? Are there any other websites similar to AliExpress that you would recommend? Do tell us in the comments section.
---
Note: – All the images, screenshots, trademarks used in the article belong to their respective websites and owners and we do not claim any right over them.