14 Best Free Hairstyle Apps To Try Different Hair Style (Men & Women)
Want to know some of the best hairstyle apps? Getting a new hairstyle and noticed by all gives you some kind of different experience, as you know, everyone tries to impress someone. 
I've used several apps to see new hairstyles to try and at one point was using more than 5 apps to get the style I wanted. Let me tell you one thing! Actually, you DON'T need multiple hairstyle apps to be installed on your phone to get your desired hairstyle. I'm going to tell you my favorite hairstyle apps and hairstyle colour apps, you should try to choose the best hairstyle design!
We bring you the top 14 best free hairstyle apps to make your hair look better than before! These hairstyle colour apps will help you to know how you would look like with different hairstyles before you go to the hair salon.
Top 14 Apps For Hairstyle That Let You Try Different Haircuts in 2022
1. Hair saloon – Spa salon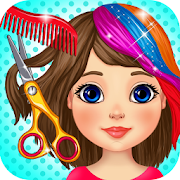 Hair saloon – Spa salon is another free hairstyle app for android. The app has 10 million downloads on Google Play Store with good ratings which makes it one of the best hairstyle apps in the market. Through this simple haircut app, you can also dye your hair, curl curls, dress your beauties in the way you want, creating the most colorful and fashionable images that even the most fashionable stylist envies. 
It offers haircuts and curls of various shapes and shades. The spa feature on the app gives access to hundreds of tools for the hairdresser including hairdryers, curling irons, scissors, dryers, ironing for leveling, etc. 
2. Magic Mirror Demo, Hair Styler
Magic Mirror is the second hairstyle app in our list that comes loaded with several hairstyles for both men and women. The app gives you access to change the colors and even allows you to create your own favorite color. It has a simple and user-friendly interface.
You can easily save the pictures directly to your phone's gallery to check them later. The app includes 20 memory cells to experiment with different hairstyles and various colors at once. We can say it is the best hairstyle app for women.
3. Hairstyle Makeover
Hairstyle Makeover is a hairstyle app for iOS which isn't available for Android users. If you are an iOS user then you can try Hairstyle Makeover app on your device to get the desired hairstyle.
One of the interesting features in this hairstyle change app is it has the feature to match the hairstyles to your photo. Simply click and drop the hairstyle you like. 
4. Celebrity Hair Style SPA Salon
If you ever wanted to try a celebrity's hairstyle then this is the best app for you. This app helps you to explore different hairstyles. The tools on the app are cut, trim and other useful salon tools. You get thousands of color and makeup options on the app to get the best result on your hair.
Using this app is very simple. After installing the app, use it as usual and select the colors, highlights, and cosmetics. After that swipe and drag to use your professional salon tools. You can also add color and sparkles to hair by swiping again.
5. Hair Color Booth
Hair Color Booth is one of the most popular hairstyles change apps for iOS and is only for iPhone, Pad users. Described to be the number one entertainment app in Australia, UK, Denmark, and Sweden, this app gives you control over the option to digitally dye your hair that color you've always wanted to.
Along with the hair coloring options, the Hair Color Booth app also comes with an option that allows you to manage color strength controls including smoothing and translucency.
6. Fabby Look — hair color changer & style effects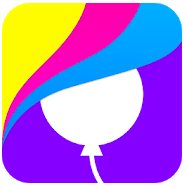 Fabby Look is perfect for those who are looking for hairstyle colour apps and specifically useful for people who want to change the style of their hairs. This virtual hairstyle app allows you to experiment with your hair color in real-time to see your looks virtually before taking a picture.
It includes more than ten trendy styles such as blue, purple, pink, magenta, platinum, etc. Once the picture is created virtually, you can share it on Facebook, Instagram, Snapchat and also on other social media apps.
7. Crazy Hair Salon – Girl Makeover
Crazy Hair Salon is rated as one of the highly-rated apps on the Play Store. This helpful and easy to use app offers a variety of crazy cool colors to show your photos. Crazy Hair Salon also provides several options and styles for making your picture with different hairstyles.
Here, you can personalize your craziest hairstyles ever in a matter of minutes. One of the highlighting features of the app is it allows users to straighten the hair with the feature called straightener. You can also cut and style your hair with scissors. The hair growing spray option helps you to regrow your hair! It has several other amazing features.
8. Hairstyle Changer App
Hairstyle Changer App is an app for everyone. This easy hairstyle changer app allows you to check out what you would look like with different types of hairstyle makeover and hair colors on your photo. It provides thousands of cute hairstyles for girls and boys.
Also, the app gives you a guide on how a woman can do the hairstyle photo montage. Alongside providing various hairstyle themes to look different, this app has makeup tools like Mustache, sunglasses, the beard so that boys/men can check different Hair and Mustache style to look like a pro. Inside the app, you get three tabs: girls' hairstyle/woman hairstyle, boys' hairstyle/man hairstyle and an additional section which includes tools like mustache, beard, sunglasses. You can make the modification to the original photo by adding hair stickers, effects, and filters such as sepia, vintage, grunge, and more.
9. Hairstyles – Fun and Fashion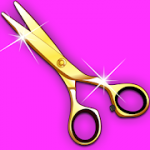 Hairstyles – Fun and Fashion is an Android application for trying new hairstyles. Through this hairstyle try on app, you can see how this or that color will look on your hairs. Just add your photo, align it in the frame or resize it with your finger if you want and start applying new colors. Then you need to adjust the color own or choose from a large number of special haircuts and hair colors.
Moreover, you can add some additional things like fun stickers such as a lovely heart, a diamond (jewel), a tiny rose or bubbles to say something to your special ones! Additionally, the application allows you to share the created pictures on social media apps including Facebook, WhatsApp, Skype, etc.
10. Hair Style For Men
Hair Style For Men is an app that helps you to explore thousands of hairstyles picked from worldwide. The app includes curly hairstyle for boys and men, long curly hairstyles, comb hair design and styles, fringe hairstyle, hawk hairstyles, faux hairstyle/faux locs hairstyles, mohawk hairstyles for boys and men, man bun haircuts/hairstyle, pompadour hairstyle, ponytail hairstyles, skin fade hairstyle, spiky hairstyle and lot more.
While visiting the haircut saloon, open the app and shows the haircut design or the hairstyle that you want to try on your hairs. So that you can get the same haircut. This app even works offline and it is a free haircut app that has thousands of haircut designs. Hairstyle for men is one of my favorite hairstyle apps for Android.
11. Hairstyles step by step
Hairstyles step by step is an app where you can find detailed hairstyle tutorials for your long hairstyles and short hairstyles for try new cuts yourself. Here the developers have collected more than 60 beautiful hairstyles.
Simply open the app and choose any section of Hairstyles step by step: basic easy hairstyles, braids or others. There you need to pick any of the girls hairstyles depending on your needs: hairstyle for school, easy hairstyle, etc. After that, you have to go through the step by step hairstyle tutorial. That's it! Once it is created, you can share it through any apps. 
12. Hair Style Changer Men & Women
This is one of the best apps for hairstyles available only for iPhone and iPad users. This app has over 150 hairstyles within 16 categories that will help you get the desired hairstyle that suits your face.
All you need to do is open the Hair Style Changer Men & Women app and click the photo of yourself. You can also pick the photo from the gallery. After that choose the hairstyle using the tool. You get the option to crop the size of hair to match the face. Also, you will be able to change the colour of the hair using this app. This free app allows you to save the picture to the file manager as well.
13. Hair Zapp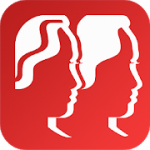 If you want to try a virtual hairstyle app then try Hair Zapp. Touted to be the best hairstyle app for women, Hair Zapp allows you need to change the hairstyle and hair colour in one click. Open the app and click on the camera icon. Click the picture or select it from the gallery.
Now, find the best hairstyle that suits your face. This app is completely free to use and there is no premium version. Yes. It has some ads but they are not annoying. You can quickly try new hairstyles using this app in a single click. It saves the picture in high-quality resolution so you don't need to worry about the quality of the picture. Hair Zapp also has the community with several users around the world so that you can get feedback for your hairstyles from other members of this hairstyle app.
Online alternative
And one more Free Online Hair Makeover that you don't need to download. Have a little fun with 28 trendy shades of hair, that you can compare with each other and see what suits you the best. You will be able to see yourself even with grey hair. If you want to share the results with your Facebook friends, just press the "Share" button.
Which is the best app for a hairstyle?
As you know, people need different hairstyles on different occasions. You need to have a trendy hairstyle on every occasion because the generation we are living in even judges you based on your hairstyle!
Why don't you try any of these top hairstyle apps to get better hairstyles and hair colour designs? These free apps for hairstyles will surely give you the best results if you follow and try them correctly. Also, check out our list of the best photo to cartoon picture apps.