21 Best Cheap Shopping Sites Like Wish in 2023
So, the question is: Which alternative sites like Wish should you use to purchase products? We made a comprehensive list of 21 similar sites like Wish that offer a wide range of products that have a high-quality and affordable price tag.
An American e-commerce platform called Wish facilitates the distribution of goods between sellers and buyers. You can list your products directly on Wish, and they will sell directly to customers. Wish is integrated with third-party payment providers for payments and does not stock the products themselves, nor does it handle returns. 
Like Amazon and eBay, the Wish platform enables merchants across the world to sell items to the public. The website has a large selection of products from unknown brands that offer high-quality products at less price. Moreover, most of the products on the site come directly from manufacturers in China.
In the following section, you'll be able to know more about some of the top shopping sites like Wish to purchase your desired products at a considerably low price.
21 Best Apps and Sites Like Wish for Online Shopping
However, why would you search for other sites like Wish when those sites would not give you a satisfactory response? Don't worry! These alternatives have mentioned would provide you with a satisfactory shopping experience just like Wish.
Since 2008, Shein has gained lots of customers around the globe by offering high-quality, stylish clothing for men, women, infants, children, and teens at a low price tag. Additionally, the site offers home goods and decor, accessories, and deals.
Shein provides shipping in a shorter time period, has customer service that is easy to reach, and has free returns. You can shop on Shein with wallet balance, debit/credit card, net banking, Paytm account and others offered as payment methods. If you're a casual shopper who always loves to negotiate prices, you will fall in love with Shein. Furthermore, Shein offers an Afterpay payment mode, which lets you pay over time by breaking up your total into four payments.
Another Wish alternative app you can use to buy products at wholesale prices. It has a huge collection of fashion, home décor, kids' stuff, etc. Savings can be maximized by purchasing more than one item on Zulily as the shipping charge can be minimized on more items. If you order one item, there is a flat shipping and handling fee of $7.99. However, if you order more than one item, you will save more.
With Zulily you can save 70% on products for moms, babies, men, kids, beauty products, and electronics. The site does offer home décor, clothing, toys, and more products at great discounts through flash sales. You'll find some of Zulily's best deals on fashion, home décor, and children's items if you're willing to be patient with shipping.
Banggood is an online retailer from China that sells goods. This Wish alternative platform sells a lot of stuff, including electronics, clothing, beauty products, and home and garden products. Banggood provides a simple, straightforward interface that makes finding your desired items easy.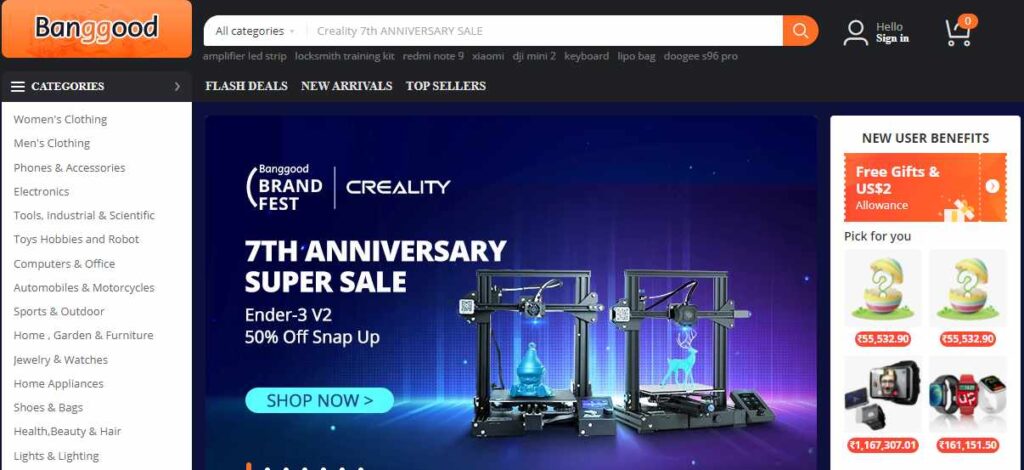 Find the latest deals from your favorite brands like mobiles, electronics, tools, fashion, and more. You can also get new user gifts, $0.01 deals, coupon codes, flash sales, and more. Stay updated on your favorite items or new products. This way you won't miss special offers or new products. This site accepts payments through PayPal, credit cards, Boleto, and cash on delivery.
The site Overstock offers a wide selection of home goods online, including furniture, rugs, kitchen appliances, and bathroom accessories. You will also find dress wear, jewelry, and children's items through the site. Getting a Club O membership of Overstock for an annual fee of $19.95 includes some exciting discounts and rewards programs, free returns, and price matching.
It sells a number of items from many brands, including home furnishings, appliances, decors, and more. Overstock markets new items as well as liquidated items. You can buy anything on the site and they will deliver it to your door. 
The website is easy to use and they have good prices and a great selection of home goods. Most items on Overstock.com are much cheaper than on other sites like Overstock. The orders worth $45.00 or more get free shipping. Customers can return most unopened items for a refund if returned within 30 days.
With Joom, you can shop for just about anything, from clothes to shoes, cosmetics to health products, household goods to accessories. Over 250 million users and counting across the globe use Joom for online shopping. Almost all of the company's products are manufactured in China and are extremely cheap.
Joom is very similar to other popular online marketplaces such as AliExpress and Wish. It's always free shipping on Joom. You can buy high-quality items from the world's trusted brands. Plus, you'll have a chance to win coupons when you play games. Within two years of Joom's launch in 2016, it secured more than 100 million active users worldwide.
---
---
This is a Wish alternative and an app from Wish. Mama is the most popular app for finding great deals on your desired products in Europe and North America. Mama gets you the best prices on the most popular products by going straight to the manufacturers.
The only downside to Mama is the shipping itself is usually more than the item you are buying.. and if you buy something multiple times, it can take a while for you to receive your order. but other than that, it's an amazing website.
With over a million customers and 3000 suppliers, DX is another amazing online sites like wish which continues to be a leading retailer in the world today. The e-commerce site has over 1000 categories, 221,000 products, and an addition of 1000 items each and every day. The warranty period is between 90 days and 150 days, depending on the item. All items can be returned within five days for a full refund or replacement.
Consumer electronics and technology, along with products with incredible offers at the best prices, can be found at the best prices on DealExtreme. You won't only find products related to technology but also lots of products for your home, fashion, beauty, health, and much more. DealExtreme's catalog boasts more than 300,000 products from the world's best-known brands.
LightInTheBox is an online retailer sites like Wish that delivers items directly to consumers worldwide via its website, similar to Wish. Since 2007, LightInTheBox has offered a convenient and affordable way for customers to shop for a wide range of lifestyle products. Wearables, small accessories, and gadgets, as well as home and garden, are the core products of LightInTheBox.
The company offers a rewards program, which gives rewards equal to 1% of net purchases during any qualifying promotional period. The company adds more than 1,000 new products to its site daily.
Depending on the shipping time you select, orders arrive in three to twenty business days. LightInTheBox.com offers a 10% discount if you use their app and offers flash sales on their website. They usually have new products under $9.99.
More than an online shopping destination, Poshmark is an active community of millions of sellers who sell their personal style and help consumers pick looks they love. Essentially, this leads to one of the most connected shopping experiences.
Despite the fact that the shipping fees are a little high, it still is an excellent way to sell and buy gently used clothing & items. Although Poshmark charges a 20% commission on sales and the state tax varies, it is certainly worth it when it comes to easy buying or selling.
Another popular site like Wish that needs no introduction is Amazon. Although it started out as a book retailer, the company is now a leader in digital media and consumer goods, including electronic devices such as the Kindle e-book reader, Kindle Fire tablet, and Fire TV. 
One study shows that 23 percent of online shoppers use Amazon as a shopping source when they're not entirely sure what they want to buy. This shows how big and how popular Amazon is.
There are a variety of product categories advertised on the site, such as consumer electronics, fashion, grocery products, beauty, toys, and lifestyle products. As Amazon has grown, it has opened numerous fulfillment centers and sold millions of different products. There are currently 1.9 million sellers actively selling on the platform.
The Geekbuying e-commerce platform began in 2012 to offer a broad range of consumer electronics gadgets. It has the best products, better customer service, and fast worldwide shipping that you'll love. This website offers consumers a huge selection of high-quality products with unbeatable prices. 
Among the most popular products on the site are smartphones, laptops, TV boxes, and Smart Wearables; but many other great electronic gadgets can be found here. With Geekbuying you can shop from top brands to trendy items.
Once you have found an item you love, you can put it on your "Wish List" or add it to your cart and go on to check out. In addition to accepting all major credit and debit cards, such as VISA, MasterCard, American Express, Discover, JCB, Diners Club, Elote, and Hipercard, Geekbuying also offers methods of payment such as Western Union, PayPal, and Wire Transfer.
---
---
You can find a wide selection of products at Dollar Tree, including cleaning supplies, housewares, dinnerware, glassware, candy, snacks, health and beauty, toys, gifts, wrapping paper, party supplies, stationery, craft supplies, teaching resources, books, and seasonal décor.
An interesting thing about Dollar Tree is you find everything in the store for $1 or less. It's easy for you to find a Dollar Tree near you. The platform has several stores all over the country. DollarTree also has a great selection online of the same items that you can find in the stores, along with ideas for crafts and projects, manufacturer closeouts, and online exclusives.
On Wanelo, you'll find all products from around the world, including clothing, shoes, and accessories for women, men, and kids, as well as home decor and furniture. All of your favorite stores are organized on Wanelo in one place.
From tiny boutiques to famous brands, all your shopping is in one place. The great thing about Wanelo is every item you find on the platform is posted by users of the app.
With its big price advantage, DHgate.com is the best Alibaba alternative and a worthy place to go for products made in China, connecting international buyers with Chinese wholesalers offering the same quality products for cheaper prices than they'll find anywhere else. 
On DHgate, you can find over 30 million products in the apparel & accessories, computers & networking, consumer electronics, toys & hobbies, health & beauty, bags & jewelry, home, auto, and more categories.
The lowest prices can be found on the most popular products including mobile phones, laptops, tablets, dresses, and cell phones. The site offers the best buyer protection, a secure refund policy, quick delivery, and tracking, and is committed to offering consumers a fast, easy, and safe purchasing experience. 
The RoseGal is another online shopping sites like Wish which is ideal for anyone looking for the best outfits for a date, casual looks in everyday life, or vintage styles to showcase themselves. It is a rapidly growing online fashion store, offering you hundreds of styles, of both the best Men's and Women's fashion, swimwear, bikinis, tops, as well as housewares and decorative items to create a warm home environment.
Choose from a wide variety of clothing styles, vintage items, and affordable product lines, and add one to your wardrobe. The site offers free shipping worldwide and offers a large variety of products at extreme discounts. The average item costs less than $20.
The Mercari Marketplace is an online marketplace that helps millions of American shoppers as well as sellers to buy and sell almost anything. Shop worldwide from thousands of popular brands including Apple, Nintendo, Rae Dunn, Funko, and many more. Mercari also sells quirky collectibles and authenticated luxury items.
Even though the fees are a bit excessive but it's a great sites like Wish to sell from and buy from. Having separate buyer and seller fees makes no sense. It's easy to use though. Despite the fact the company keeps an eye on the messages and posts that are posted on its platform, this results in easy and safe transactions.
---
---
The Fishpond platform brings you top-quality products from around the globe. A platform with a mission to make it easy for you to find products you can't find anywhere else, at the best possible price. The company currently serving in AU, NZ, the UK, and the US. Having been in the business for a long time, Fishpond is known for providing quality service.
Having over a quarter of a million items on the website, including books, movies, and toys as well as sporting equipment, kitchen gadgets, and other stuff sourced all over the world. Almost all of the products on the website are eligible for free shipping and you'll know when your ordered items will arrive because they'll inform you about the status.
Among its variety of products, GearBest is popular for offering electrical appliances and tools, sporting gear, fashion apparel, warehouses, and much more. It is an online shopping website for individuals as well as for businesses.
It also provides deals with the products every day. The warehouse section is beneficial to merchants since it assists them in finding the best storage facilities for their goods.
There are all kinds of gadgets on this site including LED lights, cell phones, accessories, PCs, clothing, and car electronics. The website also has easy return and exchange policies and warranties.
Among the secure payment methods that GearBest accepts are PayPal, MasterCard, VISA, American Express, Discover, and bank transfer (debit card). Customers in Brazil have the option of purchasing Gearbest products in easy installments.
In Jollychic you will find millions of quality products at reasonable prices. The site works with reputable importers, exporters, and distribution agencies. Products are of good quality and shipped on time.
A 15-day return policy is available on JollyChic, however, the shipping cost should be borne by the customer. The refund amount will then be credited to the original payment account.
In just over a decade, Five Below has grown rapidly, offering high-quality products priced under $5, as well as incredible products that go well beyond the $5 rate. During the past two decades, the discount retailer has experienced continuous growth in its number of stores and has reported positive comparable-store sales.
Five Below is an online retailer dedicated to connecting shoppers with products that sell for $5 or less, such as school supplies, electronics, fitness, and sporting equipment, affordable clothes, candy, cosmetics, and more. Aside from that, the website is also easily navigable into categories like Style, Sports, Technology, Crafts, Party, and Candy, making it a very easy website to use.
Jane is an e-commerce site featuring thousands of shops worldwide. This website focuses on providing daily deals as well as presenting an exciting perspective that inspires you and your family to live a stylish life. You can shop for women's fashion, home décor, children's clothing, and many other things in the JANE app anywhere, anytime.
Here you'll find more than 2,000 sellers from all over the country. Alongside offering various payment modes, Jane has an AfterPay alternative payment mode, Klara which offers 4 interest-free payments on purchases.
---
---
These are the best Wish similar companies you can try today. Because of the vast array of online retailers and their aggressive advertising, many consumers are often in doubt about deciding which product is best for them.
Hence, if you are planning to buy any product online, you should always check expert product reviews, YouTube reviews which would give you the best idea about it. I hope these shopping sites like Wish will help you to find genuine and high-quality products.
---
Note: – All the images, screenshots, trademarks used in the article belong to their respective websites and owners and we do not claim any right over them.