21 Stores Like Hot Topic to Find Pop Culture Clothing
Here at eTechShout, we've put together a list of stores like Hot Topic for you, which can help you figure out what the alternatives to Hot Topic are, how Hot Topic's competition differs, and what these online shops may have to offer you.
Hot Topic is a chain of retail shops that specializes in clothing, accessories, and licensed music relating to the counterculture. While it is very popular goth and punk, this doesn't mean you must shy away from using other stores like Hot Topic.
So, if you are someone who wants to move on to another store, here are the top stores similar to Hot Topic. Whatever your issue is with Hot Topic, this list gives you the best Hot Topic alternatives you can try in 2022.
Despite Hot Topic setting the bar high with its unconventional style, there is definitely more to be explored with these alternatives.
21 Stores Like Hot Topic Where You Can Find Pop Culture Clothing
Despite so many stores catering to the conventional, RebelsMarket is a marketplace providing alternative brands and stores. With a growing demand for unique fashion tastes, the site caters to people who like edgy, alternative lifestyles by offering different products.
The site is mostly a marketplace for affordable clothing, but it also sells jewelry, home goods, accessories, and artwork. Using the category or style filter, buyers can choose whether to shop for goth fashion or vintage fashion. 
In addition to offering international brands, RebelsMarket offers buyers a unique selection of brands not found on other online retailers.
Zulily is also the right choice while searching for clothing stores similar to Hot Topic. Zulily is unique among other retailers in a few ways, but if you're patient enough to wait for delivery, you'll be able to find great deals on your favorite fashion, home decor, and kids' items.
On Zulily, you'll find a wide variety of products, such as clothing for the entire family, kids' products, home decor, electronics, beauty products, and more. 
Zulily offers unique and inspiring finds every day, along with family-friendly items, inexpensive items, and unique finds. 
Romwe is a similarly styled store to Hot Topic. Many of the designs and styles that you will find on Romwe and Hot Topic will be the same. Compared to Hot Topic, these products are cheaper on this website. 
The new Romwe fashion line was introduced in 2010. You can find elegant alternative style clothing both for men and women at this sustainable brand whose prices are affordable for your family and friends. As a fan, one of the many things I admire about them is that they are known for offering high-quality stylish clothing at a very reasonable price.
Further, the firm is committed to providing its clients with quality services. Romwe has designer clothing, shoes, jewelry, and collection of accessories available for sale. These products are designed, sourced, manufactured, and marketed by Romwe. Women's clothing offered by the brand is colorful and stylish.
As another website offering inexpensive products, Zaful provides items similar to Hot Topic. A lot of their products have very creative designs. Zaful hosts fun and trendy fashions.
Regarding sharing their fashion desires, millennials choose ZAFUL as their top choice. Hot Topic is a more established and conservative fashion website, while Zaful is most youthful and trendy and designed for millennials. Almost any user can take advantage of great discounts and offers on this site, no matter if they are new or existing. With Zaful, you can find anything you are looking for in the fashion world. At Zaful, you'll find vibrant, stylish, and trendy clothes at very affordable prices.
Rosegal is another online shop like Hot topic. Here, fashion and accessories are offered in a broad range of trends and styles. A unique feature of Rosegal's catalog is its section for plus-size clothing. Finding products that suit the needs of plus-size women is easier. 
This website makes sure that the dress fits perfectly and looks attractive. The store also carries men's and women's fashions, as well as accessories. Additionally, their collection of swimwear is diverse and appealing to everyone.
The Rose Gal website also offers a variety of sizes along with shoes and purses. There are sunglasses, wigs, scarves, watches, rings, jewelry, to name just a few accessories available here. The store offers decor, home accessories, and furniture. In addition to maternity and kids' clothing, there are also fashions available on this site for the entire family.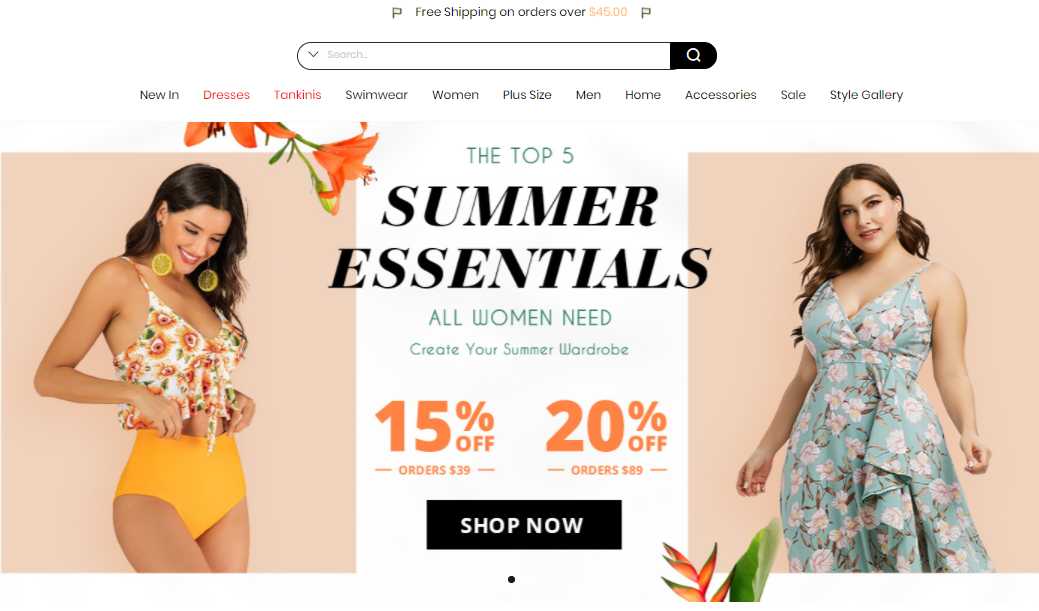 The company provides affordable designer fashion to allow women to express themselves individually. Shoppers looking for high-quality cheaper price tag clothing, accessories, footwear, wigs, and more from DressLily. Featuring an assortment of vintage clothing and shoes for men and women, along with DressLily wigs, jewelry, handbags, intimates, and home décor, the website has items to suit every taste.
They also offer cute accessories and home décor items on their online store. Dress Lily ships internationally to more than 100 countries.
Designed for women on the lookout for affordable fashion, Dresslily provides bargains on stylish clothing. The styles and trends it contains are extensive. There is clothing for all types of women. Among other things, you'll find casual tees, jeans, skirts, party clothes, swimwear, and activewear. You can also find a variety of accessories on Dresslily, including watches, bags, and jewelry.
Dolls Kill, a fashion retailer based in Los Angeles, sells affordable fashion accessories aimed at young girls and boys. With six collections available for young adults to choose from, the company mostly markets its products to young adults. 
Targeting young adults with six of its collections and tying various aesthetics together, Dolls Kill uses six of its collections. As well as clothing and shoes, women can purchase beauty products. Dolls Kill also provide a flexible, no-interest payment plan, Afterpay, that lets you buy and pay for items in four installments.
The company is an online retailer of fashion and apparel that sells clothing and accessories. Founded in 2010 in the United Kingdom, this unisex clothing company has true size ranges ranging from small to 3XL.
With Killstar, you can take care of your whole wardrobe, including cute dresses and creepy-cute sweatshirts. The site includes several lookbooks that show different styling ideas based on distinct themes. 
A favorite among independent retailers thanks to unrivaled quality and design. With bold prints, suede shoes, and leather leggings, you will find cool accessories and leggings. In the gothic fashion world, Killstar has become a must-have brand even though it isn't cheap.
They do not have as much selection for men, however, they do have outerwear and loungewear in sizes XS to XXL. If you want your look to be sleek and edgy, Killstar has virtually all of the accessories you need. The company offers a comprehensive lifestyle area that includes crafts, crystals, and pets as well.
A company called Merchbar operates an online marketplace for the sale of music band merchandise. The platform allows fans to find and purchase merchandise from their favorite artists, allowing them to purchase accessories and merchandise at affordable prices.
The store has items like t-shirts and vinyl records, that are authorized by more than 50,000 artists.
You can shop at Merchbar with confidence because it is designed to match you with the right merchandise from brands you love and offers unparalleled shopping, buying, and returning experience that helps you make the best purchasing decision.
Founded in 2004, Grindstore is a home for alternative fashion. Dedicated to meeting the needs of all ages, Grindstore offers a huge selection of TV shows & films, bands, and brands available.
In an effort to push the boundaries, Grindstore offers competitively priced merchandise that is of great quality and includes exclusive items users won't find anywhere else.
Music fans who love rock, metal, and punk, you'll find Grindstore an online boutique that offers alternative clothing and official band merchandise. It is the goal of the company to make sure you have an enjoyable and satisfactory experience while shopping online.
In addition to their retail store, Grindstore operates a trade sale that sells both original products and custom-printed items, giving customers access to high-quality printing no matter what the occasion.
Would you ever consider modern times to be outdated, going back to the golden era of 70's, 80's, 90's, or early 2000s? In that case, 80s Tees would be your best bet. There is a massive selections of exclusive items ranging from historical books, TV shows, and movies to classic video games. 
With the best t-shirt slogans on the market, this online store draws inspiration from the 90s, but carries them into the present day as well. If you order $50 or more, you will receive free international shipping.
Graphic tee enthusiasts will find everything they need at 80sTees. T-shirts can be purchased on the website featuring iconic quotes, characters, and scenes from the last four decades of pop culture. 
Around 700,000 independent artists are part of Redbubble's global community. The products sold by Redbubble come from thousands of designers and artists selling their artwork online.
As soon as a customer purchases a product, Redbubble prints the artwork on the product and delivers it to the customer.
A royalty is usually paid to the designer, typically in the range of 10%-30%. A designer is also able to determine the margin on their royalty payments.
A print-on-demand platform that was founded in 2006 and continues to grow in popularity, Redbubble allows artists all over the world to showcase their work on a wide range of items with the aim of giving them the opportunity to express themselves.
On a wide range of products, from T-shirts to hoodies to dresses, customers can find the artwork they like and personalize it for their chosen product. After the buyer places the order, Redbubble takes care of everything else, and the item will be delivered within three weeks.
Featuring alternatives and pop culture-inspired fashion, Darkside is Europe's popular store. A retailer of the alternative, gothic, punk, rock, tattoo, lowbrow, and streetwear clothing, founded in 1977, Darkside has been designing and producing alternative and pop culture-inspired apparel for more than three decades.
Darkside designs and develops its own ranges with established clients and a team of designers in-house. Darkside Clothing offers alternative clothing for Emo kids, Goths, Punks, Rockers, Bikers, Metalheads, and anyone else who wants something different includes skinny-fit jeans, t-shirts, hoodies, mini skirts, belts, bags, and many more.
Since its inception in 2005 by Maureen Keough as a DIY operation, Too Fast Brand has remained steadfast in its adherence to punk music, apparel, and culture. Using a variety of techniques to capture the past, present, and future of alternative culture, Too Fast has built a reputation for being one of the fastest-growing underground fashion brands.
The largest catalog & Internet mail-order company specializing in music merchandise is Rockabilia. Offering over 500,000 products, Rockabilia provides the premier music merchandise selection online.
Over the past three decades, Rockabilia has remained the global leader in officially licensed music merchandise. With original concert tees, band hoodies, and band posters, Rockabilia has what you're looking for if you want band t-shirts for men, girls' band t-shirts, and kids' rock tees. 
The internet is filled with a lot of shady goods, but Rockabillia has only legally licensed merchandise and supports musicians. 
The accessories that are available have a rock vibe to them, so you can make your outfit your own. Additionally, you will find costumes, treasures, and games. There is a lot to discover at Rockabillia for music lovers
In contrast to Hot Topic's geekery and fandom-oriented offerings, Rogue and Wolf's products are darker and more adventurous. Its emphasis on the eerie and dark side of alternative fashion combines influences from a vampire, witch, and occult influences.
Their accessories are the perfect solution if you love black and have always wanted the monster beneath your bed.
Although they have a small clothing line, it is their accessories that they are concentrating on. Their edgy clothing is characterized by dramatic hoods, eerie motifs, and lacing accents. There is a wide selection of both matte black jewelry and jewelry with sharp edges and exciting symbols on their website.
A number of stylized armors and moon phases feature silver and semiprecious stones. Their products are generally considerably more expensive than those available at Hot Topic. Since it is more of a designer brand than a fast-fashion company, the prices are higher.
It is designed for adults who are passionate about their lifestyle and are looking for high-quality products they can invest in for the long haul, not for youths who are constantly changing their looks.
Are you looking for something unique to wear? It is easy to create your own style with Chic Me by mixing and matching over 100,000 pieces. You'll be part of a huge party with millions of women with fashion attitudes. It offers a wide selection of fine quality and refined women's variety of clothes, accessories, and shoes to make every woman's day more fun and pleasant. 
Fashions from Chic Me have a sophisticated, body-hugging look. The store also sells a variety of shoes, including boots, stilettos, and sandals.
Dresses from Chic Me usually cost around $25 to $30. You can expect to pay $35 to $55 for Chic Me shoes. There is a very small selection of jewelry accessories. The majority of them cost less than $15.
Shipping is free on orders over $59 of clothing or shoes if you're willing to wait up to 25 business days. There is no extra charge. You can return items for an exchange or refund within 30 days of receiving them.
If you're looking for online stores similar to Hot Topic that offer amazing superhero merchandise, this is the store you should try. As the name suggests, Superhero Stuff's mission is to provide as wide of an assortment of superhero merchandise as possible.
T-shirts, hats, posters, and more are available from even the most obscure characters, virtually unknown to Marvel and DC. It demands that all its suppliers adhere to current safety regulations, ensuring the quality and freshness of its products.
Summertime joy led the two brothers to establish a clothing brand Vineyard Vines. The vineyard vines clothing store offers men's, women's, and kids' clothing. There is something for every season, including button-down shirts, leather jackets, pants, sweats, shirts, socks, underwear, shoes, belts, and more.
The Vineyard Vines clothing line is considered to be of high quality, and they also have swim trunks for men. Several different styles of Chappy Trunks are available, ranging from XS to XXL, plus there's a regular and tall option as well. 
Boohoo stocks its own supply and brand of Boohoo clothing. Unlike companies that purchase merchandise from retailers and dealers to sell through their own stores.
Among its many fashionable clothing options, Boohoo's dresses at low prices make it an ideal place to shop for new alternative clothes. They also accept Klarna payments so you can pay in three equal installments with zero interest and fees.
In addition to women's fashion, BoohooMAN offers men's fashion, plus body-inclusive collections, such as tall sizes, plus sizes, petite sizes, and maternity sizes. Popular stores like Pretty Little Things and Nasty Gal are also subsidiaries of Boohoo.
Last up on our list of the best stores like Hot Topic is Blue Banana. This company has been selling body jewellery and novelty gifts since 1997. Their mission has always been to provide products that cannot be found in mainstream retail stores. 
A lot of people know Blue Banana as a store that sells emo clothing, scene clothing, punk clothing, and gothic clothing. They're always expanding their range of skinny jeans, and there's a colour to suit everyone. 
Blue Banana carries an ever-changing huge collection of brands, including some of the most well-known brands, are Atticus, Famous Stars and Straps Clothing, Lowlife, Iron Fist, Criminal Damage Clothing, Poizen Industries, Dickies, Vans, Converse, and Osiris. 
The music that inspires alternative styles cannot be dissociated from being involved with them. Whether it's the newest bands they represent or your favorite band, Blue Banana boasts a wide range of music genres that are sure to satisfy any customer interested in band merchandise. 
Which One Is The Best Stores Similar To Hot Topic?
There's no denying that Hot Topic is a great alternative fashion site that offers goth collections, punk, rock, tattoo, lowbrow, and streetwear clothes. However, it is worth checking out other clothing stores similar to Hot Topic.
With this guide, we hope you found the best Hot Topic alternative that's best for you. What other stores like Hot Topic did we miss? Let us know in the comments! Also, don't forget to mention your favourite places like Hot Topic.
---
Note: – All the images, screenshots, trademarks used in the article belong to their respective websites and owners and we do not claim any right over them.